Main Content
Johnson Residence Hall, an original Reynolda Campus building, is named for Lois Johnson, Dean of Women from 1942-62. Although known for her numerous and specific rules of conduct, Dean Johnson earned the respect of the students under her direction and received the Medallion of Merit in 1973. The eyes on the seal represent the namesake's watchful but well-intentioned administration. To learn more about this hall, visit rlh.wfu.edu/johnson.
Famous Alumni: Musician and singer Roman GianArthur ('10) and two Rhodes Scholars have called Johnson their home hall: Maria Merritt ('87) and Brandon Turner ('12).
Johnson Faculty Fellows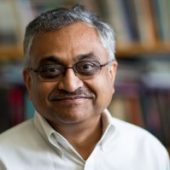 Ananda Mitra
Professor, Communication
Senior Faculty Fellow

My name is Ananda Mitra and I am a professor in the Department of Communication, and my courses and research involve the study of new technologies such as social media. I am really excited to be a Faculty Fellow because I am looking forward to inviting you to Wake Forest and learning more about you and your interests.
Swati Basu
Research Associate Professor, Physics
Associate Faculty Fellow

My name is Swati Basu and I am a Research faculty at the Physics department. I manage a research lab and conduct research in the area of Biophysics. My research has involved studying the mechanism of nitrite reduction by heme proteins such as hemoglobin, myoglobin, neuroglobin and cytochrome c and bioavailability of nitric oxide. I am currently involved in various projects which include studying the role of iodides in nitrosamine formation from nitrite in the stomach derived from high nitrate diet, determining factors that might influence blood storage and platelet aggregation and studying the role of nitrogen oxides in human adaptation to high altitude. I am really excited to be a Faculty Fellow and I am really looking forward to spending the year working with students in Johnson because it gives me the opportunity to have a connection with Wake Forest students in a unique manner.