Main Content
Collins Residence Hall, first occupied in 1985, is named for William Avery Collins ('61), a major University benefactor. While a student, Mr. Collins was pledge master at Delta Sigma Pi fraternity, in which his brothers included All-American and future NFL Pro Bowl quarterback Norm Snead ('62). Collins also competed in track and field and played in the band. In 1994, he established a $2.1 million scholarship fund for students from his native Virginia. The dragon on the dorm logo is in honor of the Collins family crest, which features a dragon of its own. To learn more about this hall, visit rlh.wfu.edu/collins.
Famous Alumni: Tim Duncan ('97), multiple NBA All-Star and Olympic medalist, and Bill Haas ('04), winner of the PGA Tour's FedEx Cup in 2011, are on the Collins all-time roster.
Collins Faculty Fellows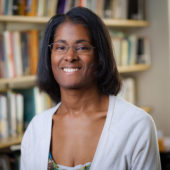 Melissa Jenkins
Associate Professor, Department of English
Associate Faculty Fellow

My name is Melissa Jenkins, and I am happy to be a Faculty Fellow in Collins Residence Hall. I grew up in Charlotte, North Carolina, and spent four happy years as an undergraduate here at Wake Forest, living in Johnson, Huffman, and Polo residence halls. I attended graduate school at Harvard University, and have been back at Wake, teaching in the English department, since 2008. I look forward to introducing Collins Residents to my husband Jaime (WFU '99 Biology), and our daughters Jayna and Jaclyn. Please seek me out for any questions related to your humanities coursework and/or adjusting to life at Wake. Welcome!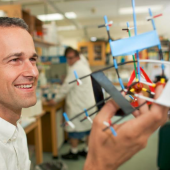 Jed Macosko
Associate Professor, Department of Physics
Associate Faculty Fellow

I'm in my third year as a Faculty Fellow. I hail from Minneapolis, MN and graduated with a degree in Chemistry from MIT. My Ph.D. work at UC Berkeley drew me into the field of biophysics. I have a wife, five kids, a cat and, in a semi-official faculty fellow mascot role, a 2-year
old golden retriever mix named Bree. She accompanies me to most of my visits to the residence halls. If you see us sitting in the Collins foyer, please come by to chat and say hello!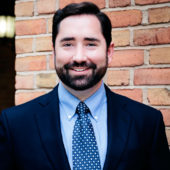 Jake Ruddiman
Associate Professor, Department of History
Associate Faculty Fellow

Welcome to Collins! I'm excited to meet you all. I'm a son of New Jersey and I teach early American history. I love talking through papers and projects with students – bring your stuff! I look forward to introducing you to my 4 year old son John, Hildy the Dog, my spouse Dr. Kate (MD), and the subtle joys of Irish music. Until then, as always, I remain your humble & ob't servant.